L
ook for the beautiful Candyland sign at 12th & the Boardwalk in Ocean City. The new store has an inviting entry, leading to multiple displays with hundreds of items to tempt your sweet tooth.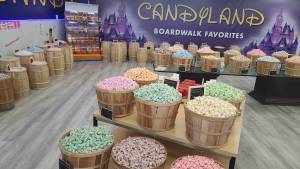 Candyland won the Best of the Press award for best candy store. Owners Natalie and Julia are no strangers to enticing customers. Their original store opened at the Ocean One Mall on the Atlantic City Boardwalk in 1997. Walking into the store, customers experienced an amazing array of goodies. They brought that same Candyland concept to Ocean City in the summer of 2020. The shop boasts 80′ of frontage on the Boardwalk. You may also enjoy the ocean and beach view from the front bar. Sit and sip an espresso, latte, hot chocolate, coffee or tea from the onsite full coffee bar.
Almost everyone loves American chocolate, but Candyland's 148-square-foot chocolate corner also features Boardwalk Favorites' rich versions from Belgium, Switzerland and France. If you prefer fudge, there are 20 varieties to choose from at they time of year. Atlantic City traces its roots to salt water taffy and Candyland's 109-square-foot taffy section displays numerous varieties. Popcorn lovers won't be able to limit themselves to just a handful of caramel or regular popcorn kernels. If you love peanuts, try the peanut brittle.
Who could imagine there could be 23 different flavors of chocolate-covered pretzels? Two of Candyland's most popular varieties are Oreos and Reese's peanut butter "coverings" that add sweetness to the pretzels. During the holiday season, Candyland's unique varieties make perfect gift to send or bring to holiday party. Gift baskets and boxes may be customized and fudge or taffy are popular choices because they last so long.
Create a gift basket or box for pickup or delivery.
.